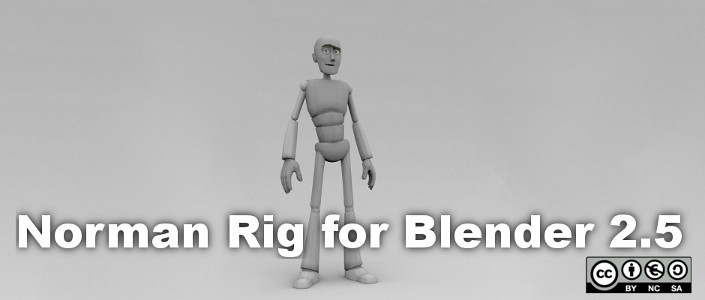 Norman Rig for Blender by Ivo Grigull
Released under license: creative commons Attribution-NonCommercial-ShareAlike 3.0 Unported


Please use a Blender revision that is greater than or equal to 34624. The addons/scripts used by the rig do not work with the official 2.56 build from the blender website.
Download the rig only, for Blender 2.57
To install, extract the directories to 2.57/scripts/addons inside the blender-folder.
MD5 checksum: ac3d084fb5d23f460aa6c542807cb6c1
Windows users can download a Blender version bundled with the rig+addons (34624) : (Windows 32Bit)
Download Blender bundled with the Rig (win32)
Credits:
The meshes and blendshapes are taken from the Maya version of the Norman rig: http://sites.google.com/site/normanrig/
The Norman rig was also released under the same license.
Original contributors:
Leif Jeffers
Morgan Loomis
Peter Starostin
Neal Thibodeaux